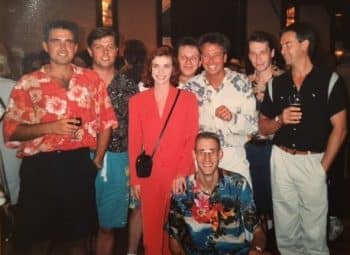 A staff photographer snapped this colourful (who said gaudy?) ensemble at the Brighton  Metropole Hotel during the 1991 PolyGram Autumn Conference. It perfectly captures the sheer delight on mega-successful singer and songwriter, Cathy Dennis's face after she was corralled by a "refreshed" album sales team (that's me, 2nd right).
Did she want to touch us all night long? I'd like to keep my professional integrity intact, so I'm not going to say. But, with the stunning choices on offer, it must have stretched her willpower right to the very limit…
The tales I could tell of this spectacular evening would fill a book. But it might also result in lawsuits. Printable highlights though include me: having an entire conversation with Bob Geldof in a ridiculous Irish accent; falling over a sales rep who was fighting in a hotel corridor with members of Wet Wet Wet; asking scary, hairy, heavy rocker Glenn Danzig if he might "fancy a wrestle later" before running off clucking like a crazy chicken.
At 3am I went for a walk on the beach, hoping to recreate scenes from Quadrophenia. In a Hawaiian shirt and eating a bowl of profiteroles. Jimmy would have been so proud!
It was Brighton after all…