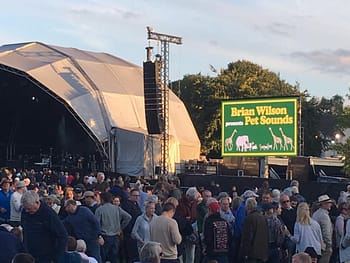 The thunderstorms and torrential downpours that crossed the region earlier in the day gave way to a dry, clear and cool evening in the grounds of the beautiful Glastonbury Abbey.
I witnessed something tonight that was as heartwarming as it was melancholy. Brian Wilson and his band were in town on the latest leg of their Pet Sounds 50th Anniversary tour to perform some of the greatest music ever made.
Wilson is now 75. Embarking on this run of global dates would be a remarkable feat even for a much younger man, but when you factor in his age, plus a lifelong battle with mental illness, drug addiction and crippling self-doubt, this feat becomes even more remarkable.
The set was split into three parts: well-known hits; the Pet Sounds album in full; more hits to finish. The history and mysticism of the surroundings added an extra dimension to these timeless songs. In particular, the sublime beauty of  "God Only Knows" sounded almost transcendent.
The band contained the ebullient, occasional member, Blondie Chaplin, original Beach Boy, Al Jardine, and Jardine's son, Matt. As expected, they were all superb, but it was the younger Jardine and his incredible voice (a voice which effortlessly replaced many of Wilson's singing parts) that gave the appreciative audience a real treat.
At times though, the struggling Wilson looked vulnerable, confused, and "missing in action". It was especially clear during his barely coherent stab at the beautiful "Don't Talk (Put Your Head On My Shoulder)". This was an emotional moment that I'm sure brought a lump to many throats. At this point, I couldn't help thinking whether some things would have been better off left at the "great idea" stage and then forgotten about.
My own feelings aside, I still felt extremely privileged to have seen a show that was undoubtedly one of Wilson's last ever in the UK. But, as I left the venue with the Beach Boys memorable hit, "Fun, Fun, Fun" ringing in my ears, I couldn't help thinking that at times this evening fun appeared to be the last thing on the great man's mind.