Way back in the olden days, when artists needed to sell more than a hundred records to reach No.1 and streaming didn't even have a name, I started work as a Regional Sales Rep with PolyGram Records. For someone as obsessed about music as me, this was a dream come true. I was indeed the archetypal pig in shit.
It was 1990. The year Margaret Thatcher resigned, they free, free, freed Nelson Mandela, West Germany won the World Cup and Bruce Forsyth celebrated his 107th birthday. It was also the year I had a surreal encounter with Mark Knopfler, one of the biggest rock stars in the world at the time.
His band, Dire Straits', previous album, "Brothers In Arms", would go on to sell a whopping 30 million copies. It also became the first album to sell a million on CD alone. They were huge. In fact, you couldn't go anywhere without seeing his face on the then ubiquitous MTV.
I'd only been with PolyGram a few weeks when the sales team got invited to the famous Metropolis Recording Studios in Chiswick. A pre-release playback of the forthcoming Notting Hillbillies album, "Missing…Presumed Having A Good Time", had been arranged, and I was pants-wettingly excited.
The Notting Hillbillies were Knopfler's country-rock side project; a "supergroup" also comprising accomplished musicians Brendan Croker, Steve Phillips and Guy Fletcher – names that meant little to me.
But, to a West Country soul-boy whose previous biggest claim to fame was meeting a man who once came third in the National Life Insurance Sales Awards, these men were now rock-gods and I didn't care that I hadn't heard of them. I also didn't care that I'd previously referred to Dire Straits as Dire-reah or that "country-rock" interested me about as much as 18th-century Russian literature – I was getting paid to meet a bona fide pop star and so was suddenly a massive fan…
In the 15 years that I worked in those circles, I never really discovered the correct protocol when one met rich and famous showbiz types. But, as a general rule of thumb, (a handful of notable exceptions aside) the bigger the star, the nicer they were. And now, at 6pm on a cold winters evening in West London, my theory would be tested for the first time.
Seconds after we arrived, a beautiful, piano black Porsche roared into the recording studio parking lot. By the way it was being driven I suspected the driver might have collected a few speeding tickets in his time (I subsequently discovered that Knopfler has a collection of classic sports cars which he loves racing).
He was here!
Much to my surprise (and a little disappointment), there wasn't a gaggle of makeup girls or an entourage of heavily armed bodyguards with him. There wasn't even a manager in a shiny suit smoking a fat cigar, just a slightly dishevelled and disconcertingly normal-looking bloke wearing a pair of battered old trainers.
Following some small talk about the weather, we entered the warm studio. After being introduced to Knopfler, he then proceeded, much to everyone else's amusement, to take the mickey out of my Somerset accent. In fairness, I was so star-struck that even if he'd wanted to tickle my balls, I'd have let him.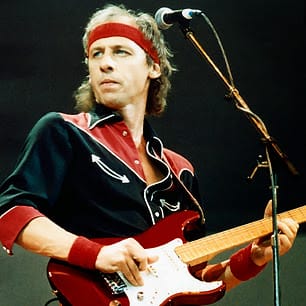 He then presented his new album to the 30 or so of us that had made the trip to Metropolis. Whilst listening to the music on one of the most incredible sound systems I'd ever seen or heard, we were treated to posh drinks and snacks (Cristal and canapes to you, daahling) and everyone visibly relaxed.
We got to spend a good hour with my new friend, Mark, discussing the making of the record and his career in Dire Straits. He was a genuine, warm and disarmingly self-deprecating man.
The evening sped by, and after we had said our goodbyes, Knopfler turned to me and inquired where the loo was. One of the greatest guitarists on the planet had asked ME a question! Still star-struck, for some reason I panicked. Not wanting to appear rude, I pointed to a door on the ground floor of the building that looked like it could be the toilet. This was obviously a complete guess.
My eyes followed his every step down the stairs and up the corridor. By now I was sweating. Profusely. His journey seemed to take forever. I then watched, in horror, as Mark Knopfler, world superstar and multi-million selling recording artist opened the door to a room I'd decided looked like a toilet only to be greeted by a clattering pile of brooms, buckets and bleach. I'd guessed wrong. It wasn't a toilet but an overfilled cleaning cupboard.
I froze, mortified. The room went deathly quiet bar a few muffled sniggers and the sound of my pounding heart. It was at this point that I fully expected to be looking for another job the following morning. But, to his absolute credit (and my relief) this lovely, witty man looked up to where I was standing and uttered the words that are indelibly lodged in my brain:
"Nice one! If I'd known calling you a yokel would piss you off that much, I'd have asked one of your mates where the crapper was"
Please follow and like us: