A journey from Los Angeles to Great Torrington that takes 71 years is slow going even when measured against British Rail standards. But, when you're P.P.Arnold, a legend the UK mod and soul fraternity has embraced for over five decades, us discerning, stylishly attired West Country folk will forgive the wait. Also, as incongruous as it sounds, seeing a former Ikette from the mean streets of the Watts ghetto performing at the tiny Plough Arts Centre in North Devon was more than worth the wait.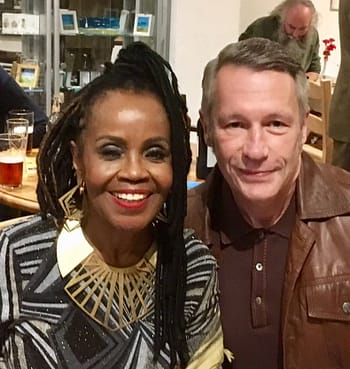 The former Patricia Cole's eventful singing career started in 1963 when she became a backing singer for the Ike & Tina Turner Revue. Whilst touring the UK, Mick Jagger spotted her talent and strongly advised producer Andrew Loog Oldham to sign her as a solo act to his fledgeling Immediate record label – a record label which had also recently signed the Small Faces. Collaborations, co-writes, hit singles, and high profile appearances with some of the biggest recording acts of the decade then guaranteed Mod immortality for "The First Lady Of Immediate".
This current nationwide tour is a celebration of P.P. Arnold's 50-year solo recording anniversary and to also promote the release of her great "lost" album, "The Turning Tide". This collection comprises 13 Barry Gibb (and latterly Eric Clapton) produced tracks recorded between 1968-1971. However, because of the collapse of Immediate plus internal Bee Gees squabbling, the album release was shelved. Now, nearly 50 years on and largely thanks to the tireless work of Ocean Colour Scene founder and Paul Weller band member, Steve Cradock and his wife Sally, this wonderful music is finally getting the release it deserves.
Superbly backed by Steve Cradock's talented young touring band, along with l00 other fans I watched in awe for 90 minutes as Ms Arnold treated us to a soulful and funky feast. The show wasn't just about great music and her incredible voice though. We also enjoyed some wicked humour plus anecdotes relating to a long, varied career and her not-always-straightforward life.
She belted out her solo singles with great gusto, including flawless renditions of "The First Cut Is The Deepest", "(If You Think) You're Groovy", and the beautiful "Angel of the Morning". Her performance of "River Deep Mountain High", an Ike & Tina track she helped turn into a classic, nearly blew the roof off. Other highlights included her sublime version of the Bee Gees' "To Love Somebody", which was as gorgeous as her interpretation of Traffic's "Medicated Goo" was funky.
Apart from meeting and chatting with the still beautiful Ms Arnold after the show, the pinnacle of the evening for me was her final song; a stunning version of the Small Faces 1967 classic, "Tin Soldier" – a record that she originally sang backing vocals on. Jake Fletcher, the band's exceptional young guitarist who P.P. introduced as "mini Marriott", took on the great man's inimitable role superbly.
This incredible climax was, without doubt, the crowning glory of a memorable show.