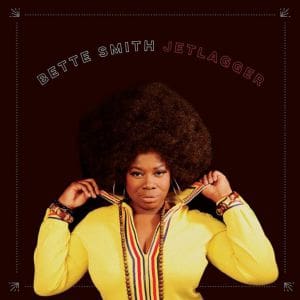 It still gives me a huge buzz when I discover a previously unheard artist, especially when they've got a voice and personality as big and bold as New York's sensational new soul singer, Bette Smith. Ms Smith was born and raised in the tough Brooklyn neighbourhood of Bedford-Stuyvesant and, when you watch the video for "Manchild" (below), you instantly know that just like her influences, Etta James, Tina Turner, Millie Jackson et al, she's one feisty lady that ain't going to take any messing!
In a music industry obsessed with dull, over-styled singers warbling melismatic, pro-tooled nonsense over generic backing tracks, Jetlagger is a breath of fresh air and devoid of any artificial additives. Over the course of this, her debut's, ten "live" studio recorded tracks (six originals and four covers), and under the expert tutelage of multi-instrumentalist, producer and songwriter Jimbo Mathus (a former colleague of blues legend Buddy Guy), Bette, growls, hollers and sings like a seasoned Southern Soul blues(wo)man.
The album is bookended by two absolute belters; self-penned, "I Will Feed You" is a reflective mid-tempo ballad that builds to a rousing climax, showcasing Smith's more soulful and vulnerable side – it also sounds like the best song Macy Gray never recorded. The album closer, however, is one of four well-chosen covers – a superb version of the Staple Singers 1974 classic, "City In The Sky", which I'm pretty sure Mavis would approve of.
In between these two crackers, we are treated to the Tina Turner channelling title track, the aforementioned single "Manchild" (above), plus the other Mathus penned originals; the swampy street-blues of "Durty Hustlin'", Southern Soul classic-in-waiting "Shackle & Chain" and the country-tinged stomper, "Moaning Bench". Alongside "City In The Sky", the eclectic choice of well-executed cover versions include the rocking Steve Van Zandt/ Maria McKee penned Lone Justice track "I Found Love"; a glorious gospel take on "Flying Sweet Angel Of Joy" by fellow Fat Possum Records (of which Big Legal Mess is a subsidiary) artist, the mysterious Famous L Renfroe and finally, a sultry version of the 1971 Isaac Hayes classic "Do Your Thing".
All in all then, "Jetlagger" is a fine debut from a singer who demands to be heard and, as more people get to discover her, they will realise that she has grabbed the classic blues and soul genre by the scruff of the neck and injected it with some welcome attitude and sass. On 27th February next year, she's coming to the UK to play one night at the London Borderline and I think it's fair to say that it's going to be a show not to miss.