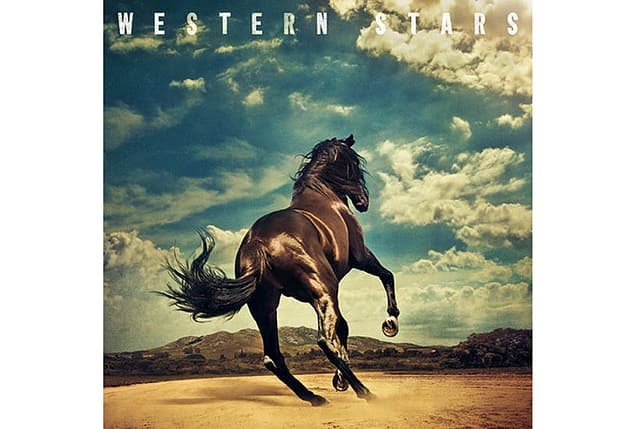 I adore Bruce Frederick Joseph Springsteen; I love his music and I respect him immensely as a person. However, in choosing "Western Stars" as my album of the year, I now have a problem… how to review it!
You see, I'm just a "normal" fan and Bruce is one of the few artists whose obsessive followers know (I mean REALLY know) every last detail about them.
They can tell you how many different versions there are of every format (plus catalogue numbers) of each of his nineteen studio and twenty-three live albums. They will know who designed and printed the cover sleeves for each of his seventy singles, and they will have the name, address and inside leg measurement of the man who drove his tour bus in 1985. In short, they know more about The Boss than he knows about himself.
So, rather than harp on about the specifics of "Western Stars" only to find myself being berated by a Springsteen lynch-mob for getting a detail wrong, I've instead written a few words below about why it's become such an important record to me.
If I'm honest, when I first heard "Western Stars" back in June, I knew that it would be my album of the year. It felt like a record I'd known forever; a record crammed full with songs that sounded new and yet familiar at the same time.
Maybe it's because I grew up in the sixties and seventies on a musical diet of Burt Bacharach & Hal David, Glenn Campbell & Jimmy Webb, Roy Orbison, Harry Nillson and Jim Reeves that I love songs with expansive orchestral arrangements. These legends made records which told stories of the loved and the scorned, the lost and the found; about gamblers, chancers and unsung heroes from far-off places I'd never been to but longed to visit.
Songs like "Wichita Lineman", "Everybody's Talkin" and "Rhinestone Cowboy" perform a feat that only the greatest songwriters can achieve. In the space of just a few beautifully constructed verses, these tracks have the power to fill your head with characters and feelings brought to life by emotive words and lush melodies.
The songs on "Western Stars" have this quality too. All of them. They are sumptuous and textured; sweeping widescreen epics as big as the Nebraskan sky. They tell tales of drifters, hitch-hikers and lovers who find themselves too many miles from where they long to be. And every time you hear them, they conjure up new images. This is music you inhabit as well as listen to.
But, on top of all this, no matter how wonderful these new songs are, they don't just transport me to far off places, they transport me back to the happiest years of my childhood. And I think THAT is the real reason why "Western Stars" has affected me so profoundly.
* "Western Stars" was my 2019 Album of The Year – you can read the complete Top 30 by clicking here