For the benefit of the uninitiated, Olivier Popincourt is a stylish French Mod, a musical Anglophile, an accomplished songwriter, and a big fan of Paul Weller. He's also just released "A Deep Sense Of Happiness", the follow-up to his 2016 debut, "A New Dimension To Modern Love".
Whilst both albums are rich in melodic, elegantly crafted songs, there's a subtle difference between them. That difference lies in the employment of a brass and string section on the new record. And it works, beautifully.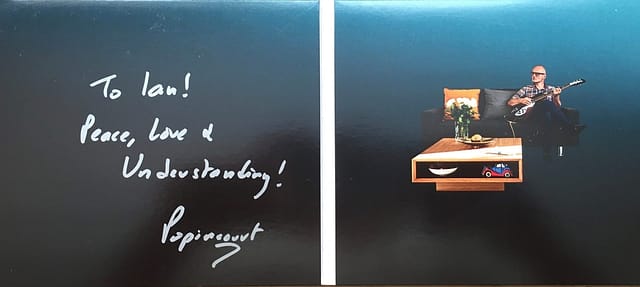 Coming on in places like the Gallic lovechild of Lloyd Cole and Paddy McAloon, Olivier doesn't have a huge, booming voice. But, far from being a weakness, his vocal style serves to imbue his songs with a vulnerable charm. For proof, just listen to one of the album's many high-points, "Where The Wind Never Blew", an exquisite track rendered even more rueful by the backing of a mournful trumpet.
The album's 12 tracks are bookended by meditative introspection. The opener, "The Grass Of Winter Morning" is one of the most moving songs of the year. With a nod to Steve McQueen era Prefab Sprout, its poignancy is further enhanced by the accompanying video (below). Meanwhile, "This Must Be Heaven" and its stoned nods to "A Day In The Life" and "Comfortably Numb" is the perfect track to sign off with – a soothing aural antidote to everything 2020 keeps throwing at us.
The album isn't completely awash with dreamy ballads, though. Mr Popincourt also knows his way around the power-pop arena too. Whilst it's clear that the slower numbers owe much to great songwriters like the 80s output from Tracey Thorn, Roddy Frame or Paul Weller, the upbeat tracks feature the best bits of mid-90s Britpop. "(Always Back) Like The Morning Dew", "My Whole World Is Falling Down" and the breezy title track (below) inhabit the same space as Supergrass or the Boo Radleys at their sunny best.
It goes without saying that a record made by one of France's most stylish pop-stars wouldn't be complete without a guest appearance from the lovely Gabriela Giacoman of Paris's prime Mod outfit, French Boutik. And what an appearance it is. As well as providing lead vocals, she also co-wrote "While The Ship Sinks" – a poppy 3-minute delight beamed straight in from 1967.
Despite sounding naggingly familiar with its many musical reference points, Olivier Popincourt has somehow managed to make "A Deep Sense Of Happiness" one of the most unique records of the year. To help understand this paradox, when I recently asked him to tell me something interesting about himself, he replied: "I'm French, but I don't drink wine".
Sacre bleu!
I'm ending this post with an explanation. In truth, it's an explanation that could apply to many of my reviews. It's no mystery to those of you who read my ramblings that many of the acts I like aren't exactly household names. Therefore, the reason I write about them is to help spread the word as they're deserving of a much wider audience. Crowbarring obscure references into my music-related articles is pointless, doesn't give anyone a frame of reference and just makes me look like a pretentious tit. The simple fact is that the easiest way to get you lot to listen to something new is by comparing it to the work of artists you're already familiar with. I hope this doesn't make me look like a lazy reviewer as all I want to do is help get great music heard by more people.
You can find out more about Olivier Popincourt and his music, here: http://www.popincourtmusic.com/
You can buy "A deep Sense Of Happiness" from Milano Records, here: http://www.milano-records.com/popincourt.html
Please follow and like us: