It's November already! How the hell did that creep up on us so soon…
Around about now, us country folk start foraging in the hedgerows for nuts, berries and roadkill to see us through the winter. It's also the time when my thoughts turn to compiling The Acoustic Egg Box Top 30 Albums Of The Year. Although this is a more daunting prospect than the foraging, and I agonize over writing those unfathomable reviews that very few people read, it's become a "thing" that the masochist in me now enjoys cobbling together.
There are always SO many questions to be answered before the judging panel (me) sits. This year the topics in question are: Has Lana Del Rey done enough to warrant her 2 album releases being in the Top 30? How can I justify the inclusion of serial arsehole Ryan Adams' fantastic, "Big Colors"? Will the new kids out-muscle the old stagers? Will the ladies outnumber the gents? Will SAULT be No.1 again? Do any of you REALLY care?
2021 has been another exceptional year for new music. This is great from a listening point of view, but not so easy when whittling 65+ albums down to a final 30; deciding the order they end up in is even harder. I suspect the chart this year will be harder to complete than ever because, even at this late stage, I still have 4 or 5 records that are potential Albums Of The Year. On top of this, there are several top quality records yet to be released before Christmas.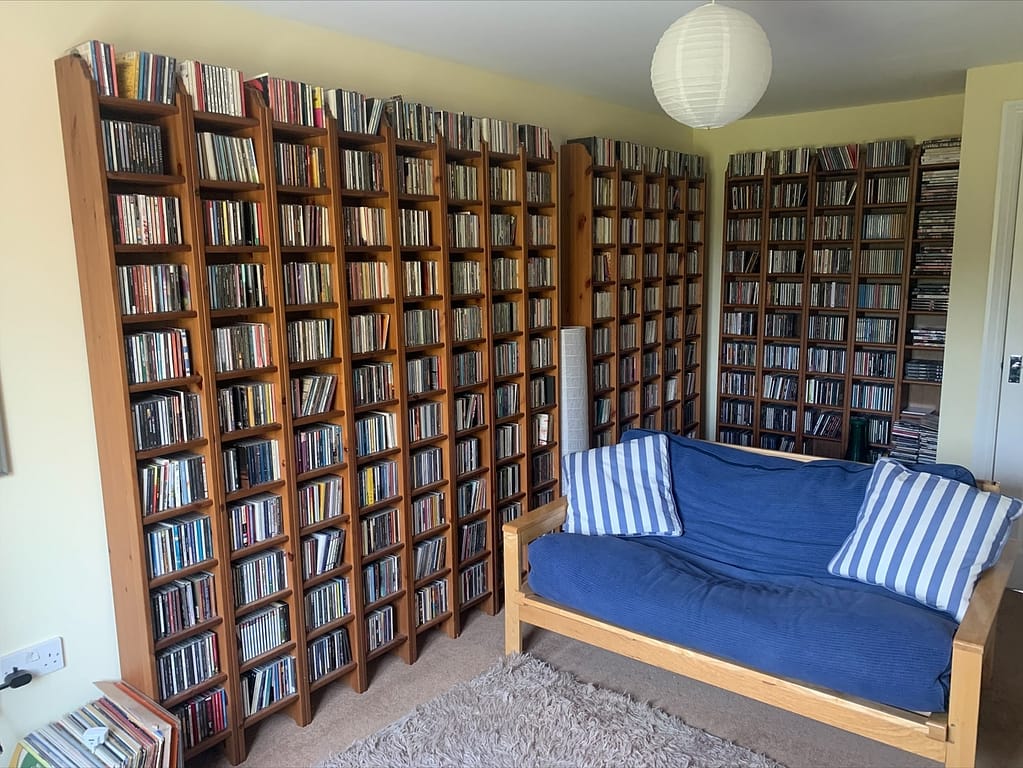 However, with some sadness, 2021 will be the last year in which I apply the Egg Box Rule No.1. This rule states that "a physical format MUST be purchased for it to be an eligible chart contender". It's being scrapped because I'll be cutting right back on music buying next year. This doesn't mean there won't be an Acoustic Egg Box Top 30 in 2022 (hell no!), it just means the eligibility criteria is being relaxed.
There are several reasons for the changes:
1) Artists are progressively limiting their physical releases to vinyl (plus digital download) whilst often not producing a CD format at all. And whilst I know the shiny discs aren't everyone's cup of tea, and their sales continue to decrease, my collection comprises thousands of the little plastic buggers, and I love them. Yes, I own a turntable, but the price of new vinyl is utterly ridiculous, plus my Hi-Fi setup is very much CDcentric anyway. What all this basically means is that in recent years some brilliant albums have been excluded from the chart purely because I didn't own them (and the situation is only getting worse). My gaff, my rules. Yes, I'm a weirdo…
2) With the cost of living and running a car going through the roof, I have to look at personal expenditure. It's an undeniable fact that Mrs Egg Box gets cold even during the warmest months. Therefore, disconnecting the central heating and asking her to wear more layers because I want to buy the latest deluxe Beatles remastered box-set isn't, apparently, an option. Also, as I'm a fat, ale lover, cutting back on food and alcohol is an even more ludicrous idea than disconnecting the central heating. Something has to give…
3) Earlier this year I bought a state-of-the-art Cambridge CXN (V2) Network Audio Streamer. Combined with the "Hi-Res" streaming and download provider, Qobuz, the sound quality this bit of kit produces is astonishing. Because I'm now off to the dark side, I fully expect an angry mob of fellow music-obsessives to march on my house chanting "burn the heathen" before invoking a plague of Sheerans on me. But please read point 4 below before judging me too harshly.
4) The fact that the COVID-19 restrictions killed the live-music industry was tough for the ageing party animals that are Mrs EB and me. Just HOW much we missed going to gigs though, only became apparent when the venue doors opened again recently. Elbow were mesmerising, Scritti Politti unmissable and Stone Foundation more effervescent and joyous than ever. Each of those gigs was, in its own way, emotional, exhilarating and proof that the shared experience of listening to live music is an incomparable buzz. Therefore, we fully intend to spend any (spare) money that we'd have previously used to buy new music, on going to lots more gigs during 2022.
And on that note, I'm away to start the whittling…
Please follow and like us: