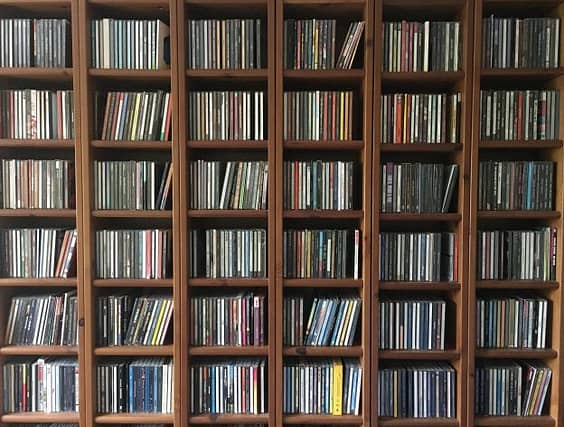 A Curates Egg
The great German philosopher, Friedrich Nietzsche, once wrote: "Without music, life would be a mistake". He is, of course, absolutely correct. Then again, he'd never heard a Whigfield record…
I always intended for The Acoustic Egg Box blog to be about my love of music (and books, films and the creative arts in general). I realise, though, that I've gone a little off-topic lately. However, over the next few months, I'll try to redress the balance by posting less stuff about "stuff" and more stuff about music (and books, films and the creative arts in general!).
I've already got some magnificent ideas for new topics and posts, one of which involves revisiting my entire music collection and attempting an A-Z review of it all. More details about this ridiculous project will follow asap. In the meantime, you can read a little about my formative years and the sparks that ignited my interest in music (and writing) on this site's "About Me" page. This will give you a brief outline of my musical journey, and if you ever had any notion that I was "cool", I'll completely dispel that myth over the coming weeks with more in-depth posts. "Laughing Gnome" and "Funky Moped" anyone?
Auteurs, Beck, Costello, Dexys
I don't know anyone else who wakes in the middle of the night fretting about whether I should file A House before Aaliyah or after a-ha, but for me, it's a huge deal! I lose sleep over these things. I'm a pedant and it IS important. I know some people who arrange their record collections by genre, label, release date or weird systems that even Alan Turing would struggle to fathom. If I did this, I'd go mad. What about sub-genres, label imprints, re-issues, remasters or re-presses? After all, one man's funk is another man's disco, and those bloody foreigners sometimes release things years after we do. I'll put this to all the freaky filers out there: if your destitute best mate's about to win a shitload of money on "Who Wants To Be A Millionaire?", gets a difficult question about Terence Trent D'Arby and chooses you as their "Phone a Friend" candidate, because of your ridiculously filled racks you won't know where to look for the answer within the allocated 30 seconds? Next thing, you'll never get another phone call from them and they'll remain poverty stricken. Me? I'm happy with the simplest order – alphabetical.
As my CD/ LP collection now numbers around 4,000 bits, to help keep track of it all, I use a fantastic software package from Collectorz (collectorz.com). This great bit of kit costs me just £2.60 a month and is an invaluable tool for filing, sorting, and reminding me of the vast amount of money I could have saved over the years. But there are strict rules for my catalogue system – here are a few of the main ones:
Band name: Earth, Wind & Fire = E, The Moody Blues = M, 10cc = T
Artist name: Marvin Gaye = G, The Steve Miller Band = M, Toyah = T
Within each letter group, there are also rules. For instance, during my sleepless nights, I decided for my own sanity that Aaliyah (AA) comes before a-ha (AHA) who come before A House (AHO). Some experts will disagree but don't forget it's my ball…
Any acts named with a number will be filed how they are spelt, i.e. 808 State = E, 4-Hero = F
Any acts that start with a number immediately followed by a letter will be filed how they are spelt, i.e. B-52's = BF, U2 = UT
Any Macs or Mcs are all filed under Mac. Therefore McCartney will precede MacColl. (The Maccabees are difficult arseholes though and for convenience, I've just crowbarred them in between Paddy McAloon and Paul McCartney).
As a serious ("ridiculous" according to Mrs EggBox) collector, I have several albums of the same title by an artist. For example, I have 3 copies of ABC's "Lexicon Of Love" which was originally released in 1982. The order that I'll file them in is alphabetically (ABC) first and release year of the album title in question second. Therefore, version 1) 1986 standard CD version 2) 1996 remastered version with 6 extra tracks 3) 1998 remastered version with 1 extra track plus 12-page booklet and expanded sleeve notes. The next album I own by them is "Beauty Stab" from 1983. And so on.
But what about Freur, I hear you ask! Freur, who had a minor hit in 1983 with Doot Doot (before becoming dance music darlings, Underworld), started off life as a hieroglyphic squiggle. But everyone called them Freur, so "F" it was. If I'm honest, it could just as easily have been "S" for shit, though. As it is, I don't own any Freur records, but I have several by Prince. Prince Rogers Nelson (he never used the last bit) went a bit mad in the '90s, mostly to piss off his record label, Warner Bros. so they'd release him from his contract, but also because he was a bit mad anyway. During this period he changed his name to "symbol"; to be more precise, his squiggle was a combination of the traditional symbols for a man and a woman – a "lovesymbol" if you will. He didn't fool me – I guessed the diminutive fella with his lustrous, black hair, distinctive falsetto and songwriting style largely centred around sex, was Prince all along. So, despite the symbol bollocks, I've filed every record he released under "P".
Jangle Jangle Jewellery Jewellery
I realise that all the above will sound like the ramblings of a madman to most people. But most people don't spend their waking hours listening to, watching or reading and writing about music in the same way I do. I've said it before, but my love of music borders on obsession. Not an obsession like stealing women's underwear off washing lines mind, but an obsession nevertheless. I guess I'm lucky to have grown up in an age when "pop" music was an enormous part of most people's lives.
Oh, what fun we had every Sunday lunchtime in the 70s, gathered around the wireless listening to Jimmy Savile's "Old Record Club" and winning imaginary points whilst correctly answering questions about the Top 20 music charts. Who'da thought it odd when this weird DJ with long bleached white hair, ridiculous sunglasses, massive jewellery, tight lurid tracksuits and who smoked zeppelin sized cigars whilst spending far too much time around children, turned out to be the most spectacularly hideous paedophile this country has ever known? But at least we sat down to eat together as a family and listened to music – what halcyon days they were…
Anyway, in the words of Ronnie Corbett, I digress. I'm sure those of you who found anything of interest in this post will now let me know how ridiculous MY filing system is and that Jim once fixed it for you without any problems at all.
Drop me a line, I'm always happy to receive any suggestions, info or requests as long as they're legal and not TOO rude.