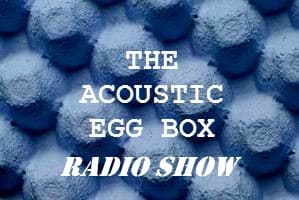 In early 2022, despite much guffawing and hilarity from people who know my speaking voice is a little less beautiful than Richard Burton's, I recorded the first "The Acoustic Egg Box Radio Show".
Although I've always been fanatical about music, in 1979 everything changed. I left school and turned 16 that year, but, more importantly, Quadrophenia, the Mod Revival and 2 Tone, plus the clothes and camaraderie this new (to me!) scene encompassed, gave a whole working-class generation facing the bleakness of a Thatcher government, something to get excited about and escape into. And so, this hour of great music (occasionally interrupted by my inane babbling), is a snapshot of that magical period and how my own experiences fitted in around it.
One final thing, I know the show has been available for some time, but the tragic death of one of my true musical heroes, Terry Hall, just before Christmas last year, made me realise just how important his contribution was, not just to my own life, but British popular culture in general. Thank you for the music and memories, Terry – your legacy is indeed a great one.
By clicking on the Mixcloud link below, you'll hear the following tracks:
The Special A.K.A. – Gangsters (2 Tone)
The Selecter – The Selecter (2 Tone)
Madness – One Step Beyond (Stiff)
The Beat – Tears Of A Clown (2 Tone)
The Jam – The Eton Rifles (Polydor)
The Who – 5:15 (Track)
Booker T & The M.G.'s – Green Onions (Stax)
Love Affair – Rainbow Valley (CBS)
The Kinks – Tired Of Waiting For You (Pye)
Small Faces – The Autumn Stone (Immediate)
Secret Affair – My World (I-Spy)
Dexys Midnight Runners – Geno (EMI)
The Lambrettas – D-a-a-ance (Rocket)
UB40 – King (Graduate)
Junior Murvin – Police & Thieves (Island)